The highest state court in Massachusetts has refused to enforce an arbitration clause in Uber's terms and conditions after finding Uber's signup process did not create an enforceable contract between the company and users. The decision highlights the sensitivity around signup processes and what constitutes sufficient notice of contractual terms as well as direct and unambiguous assent mechanisms. This includes giving close consideration to the choice of words on any button that is clicked to sign up for the service.
According to the complaint, plaintiffs registered with Uber through the app's three-screen user signup process in 2014 and 2015. The third screen at sign-up bore the header "Link Payment" and consisted of a text field to enter credit card information, a button to scan a credit card, a button to enter a promo code, and a PayPal button (image below). The bottom of this screen included text reading, "By creating an Uber account, you agree to the Terms & Conditions and Privacy Policy." The words "By creating an Uber account, you agree to the…" were less prominent than the boldfaced "Terms & Conditions and Privacy Policy." which were in a hyperlinked box. Clicking this box opened an additional screen which included hyperlinks to Uber's terms or privacy policy. This third screen featured a "Done" button in the upper righthand corner that became clickable once users entered payment information and that users clicked to complete the signup process.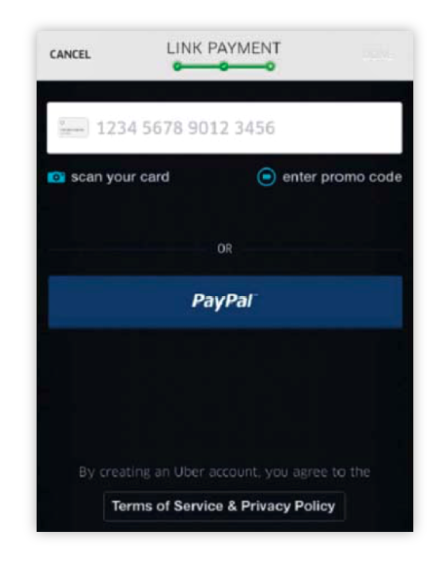 Uber argued that plaintiffs must arbitrate their claims because plaintiffs agreed to Uber's terms and conditions containing a mandatory arbitration clause when plaintiffs clicked "Done" during the signup process. Plaintiffs maintained that Uber's terms and conditions as a whole were unenforceable, because they lacked reasonable notice that the terms existed and that they were agreeing to them.
The court concluded that Uber's terms and conditions was not an enforceable agreement, and therefore plaintiffs' claims were not arbitrable. The court determined that Uber failed to provide reasonable notice of the terms and reasonable means to accept them. The court noted Uber's signup process failed to provide express notice to users of the terms because (1) users could fully register without ever clicking the link to the terms, (2) the terms appeared only on the third and final screen of the signup process, (3) the contractual terms were less prominent than other information on the screen, and (4) the text appeared at the bottom of the screen and only shifted to the center if users opened their keypad to enter credit card information. The court also distinguished signing up for an Uber account from other transactions where the nature and size of the transaction give reasonable notice of contractual terms. Moreover, the court found that Uber's interface unreasonably obscured that users were agreeing to contractual terms by clicking the "Done" button, as opposed to a button with clearer language like "I Agree." Notably, the court highlighted that Uber's driver signup process required drivers not only to review the terms but also to click "Yes, I Agree" twice, indicating that "Uber [knew] how to obtain clear assent" and suggesting that the interface was designed to enable users to sign up without requiring them to understand they are contractually bound.
While this decision is based on the specific Uber user flow process, it reinforces that companies must take care to provide reasonable notice of terms and assent mechanisms to create an enforceable contract. Terms should be prominently displayed and readily accessible during the signup process. The decision also identifies "Yes, I Agree" buttons and checkboxes as the gold standard for manifesting user assent, while indicating that "Submit" or "Confirm" buttons may be too indirect and ambiguous to convey assent.