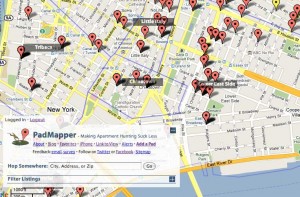 Last week saw an interesting development in craigslist's lawsuit against 3Taps, brought in July 2012, in which the classified ad site alleged that 3Taps impermissibly crawled or scraped craigslist.com to populate data into the "Craiggers" API and eventually, the "PadMapper" apartment-locator app.  With its Answer, 3Taps filed a Counterclaim raising Sherman Act antitrust allegations, alleging that craigslist has impermissibly controlled and impeded access to otherwise public information on the internet — and thus has maintained a monopoly in the  market for classified ad and apartment listings.
The case presents an interesting showdown regarding what limits can be placed on "crawling" otherwise public data, and what the reasonable basis of such limits might be.  Craigslist alleged that 3Taps impermissibly — in violation of craigslist's copyrights and posted terms of use — copies craigslist's content and "makes it available to third parties for use in competing websites" and other purposes by "improperly accessing craigslist's website and 'scraping' content."  (Craigslist also raises somewhat more conventional trademark claims, regarding use of the craigslist marks.)  Craigslist's alleges that it "either owns or has exclusive rights . . .  including all copyrights, in and to its website and all portions thereof, including but not limited to the user-generated postings on its website."   All ad listings, it argues, are "original works of creative expression," and thus copyrightable.  In addition, the craigslist.com terms of service prohibits, for instance, derivative works to be created from the data on the site.
But 3Taps has offered a vigorous defense — both in and out of court — essentially claiming that what is on the public web is up for grabs, and that no reasonable distinction can be drawn between a search engine that may permissibly "crawl" data, and another "crawler" such as an API that accesses data for its own commercial purpose. With its antitrust allegations, 3Taps alleges, in a nutshell, that:
1 -Craigslist has monopoly power in the relevant product market for the "onboarding" of online classified ad content — meaning the "creation, posting, editing, and deletion of users' online classified ads."  According to the Complaint, craigslist possesses a 90 percent market share in that market, and a 65 percent market share in the sub-market for apartment listings; and that
2 -Craigslist's long-standing practice of denying or cutting off access to products, APIs and RSS feeds that seek to compile its listings amounts to illegal maintenance of its monopoly.  The Complaint particularly calls into question cease and desist letters craigslist has sent to numerous companies that crawl, use and/or curate data from craigslist.
Of particular relevance to data compilers, especially those who collect online data — and this makes the case somewhat novel — 3Taps insists that it obtained its data not directly from craiglist, but rather from public interfaces and engines such as google and bing.  Presumably for this reason, craigslist did not raise claims under the federal CFAA or similar state and common law computer trespass claims.  Rather, craiglist principally alleges violations of copyright law and contract (based on the terms of service).
The case thus presents several novel but potentially important issues for the online data industry and for websites and services, regarding ownership and control of posted data:  first, whether a site operator such as craigslist can copyright whole swaths of data posted to its site, and it so, what it must do to secure those rights (for instance, 3Taps asserts defenses based on lack of copyright registration);  second, when a site operator may assert such copyright claims (here, 3Taps asserts de minimis and fair use defenses);  and third, whether a site operator may, such as in a terms of use, preclude the secondary use of data crawled from the internet or other public engines (3Taps asserts those terms are unconscionable, or not applicable because 3Taps never actually clicked through them).